Westward Ho!
The Molesworths, father and three sons, returning from the Iron Hut, with Major Hopkins, the golfing artist, in the forefront.
It is reported that there was a great golfing family from Westward Ho! playing splendid golf. The family patriarch was Captain George Molesworth of Westward Ho! a wealthy amateur who played with only three clubs: a driver he called Faith, a cleek known as Hope and a putter called Charity. He challenged any other father and son pair to play him and finally in the autumn of 1875 he challenged Tommy Morris who accepted – continued below.
For those who want to know more about the history of golf you are thoroughly recommended to read the above book in ebook format – the link is as follows:- Please copy and paste. Download This eBook and read this book online: HTML
http://www.gutenberg.org/ebooks/37394?msg=welcome_stranger#Page_11
The writer , Horace G. Hutchinson, the first English Captain of the Royal and Ancient, buying back, according to custom, the ball struck off to win the Captaincy. 1919
The following is extracted from the book – "The Project Gutenberg EBook of Fifty Years of Golf," by Horace G. Hutchinson.
CHAPTER VI
HOW MEN OF WESTWARD HO! WENT ADVENTURING IN THE NORTH
This adventure came about owing to an idea very prevalent, though I hardly know whether it had existence in fact, that Young Tommy had a standing challenge open to back himself at odds of a third against any amateur. Captain Molesworth took it[Pg 44] up on behalf of Arthur, and to St. Andrews they went again, in the dreary month of November, to bring the matter to an issue. Altogether they played for six whole days, two rounds a day, and all through the piece Young Tommy had the better of it. I cannot believe that in this match Arthur Molesworth did himself full justice. It is true that during the latter days snow lay on the ground, so that the greens had to be swept and the game really was not golf at all, but then it is no less true that Tommy held the advantage just as consistently in the days when real golf was to be played as on those when the snow spoilt it. An onlooker did indeed tell me that Young Tommy showed his skill wonderfully in lofting off the snowy ground to the small circles that had been swept round the holes. "Molesworth could loft there just as well," he said, "but Tommy, using his niblick, made the ball stay there as if it had a string tied to it, whereas Molesworth's ball was always running off on to the snow on the other side." But, be that how it may, and crediting Young Tommy Morris with a full measure of that genius for the game which all who have seen him reported, I am not going to believe that the golfer ever was born, be his name Morris or that of any Triumvir, who could give a third and a sound beating (for it was no less than this that Young Tommy accomplished) to Arthur Molesworth when he was playing his true game—and this, with all due allowance made for Tommy's knowledge of his home green. There was a peculiar pathos attaching to that match and Young Tommy's triumph, for it was his last. His wife had lately died, and interest in life, even in golf, had gone out for him. It was in November that he was thus beating[Pg 45] Arthur Molesworth, and on Christmas Day of the same year he followed his young and loved wife. His memorial, recording a few of his greater victories—he was four times in succession open champion—is in the St. Andrews' graveyard.
Indisputable was his genius for the game; impossible to calculate is the comparison between his skill and power and that of Harry Vardon, let us say, to-day. Doubtless he was a far better putter, for while he was so good at all points of the game he was at his strongest of all on the green. I do not think we shall get a better account than that which Leslie Balfour gave when an Englishman asked him how he thought Young Tommy would compare with the heroes of to-day. Leslie thought a moment, and then he said, "Well, I can't imagine anyone playing better than Tommy"—and at that I think we had best leave it.
An Old Westward Ho! Group.
From left to right: Mr. P. Wilmot, Mr. T. Oliphant (of Rossie), Major Hopkins, Hon C. Carnegie, J. Allan, Admiral Thrupp, General Maclean, Sir R. Hay, General Sir Hope Grant, Mr. T. MacCandlish (putting), Rev. T. Gosset, Colonel Hutchinson, Mr. J. Brand, Mr. Peter Steel, Mr. R. Molesworth, Mr. Lindsay Bennett, General Wilson, Mr. Eaton Young. Sitting: Mr. Baldwin, Colonel Hegan Kennard, Mr. George Gosset.
Mr. John Dunn (driving), Captain Molesworth, R.N.
After all the triumphs, tragedy strikes the young life of Tom Morris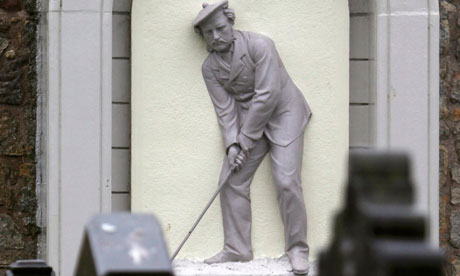 There was no Open Championship in 1871, because of the death of one of its biggest supporters and lack of an organiser, and when it was staged again in 1872 Tommy won it for a fourth successive time, a feat never since matched.
His was the first name engraved on the new prize, the Claret Jug, commissioned at a cost of £30 and still awarded to the winner today.
Some say that Tommy never achieved the heights of his Championship years again – but soon after his fourth victory he had other things on his mind. He was courting his future wife, Margaret Drinnen, the daughter of a Lanarkshire miner who was 10 years older than Tommy. She was apprenticed in the lace industry at the age of nine, was one of 10 children and, like two of her sisters, she gave birth to an illegitimate child. To the pious, church-going Morris household, this, if they had known, might well have been a significant obstacle to their approval of her. The infant, born when Margaret was 25, died after eight weeks.
Tommy's parents, Tom and Nancy, did not make the journey to the wedding in Whitburn. Did they disapprove of Margaret? They would have known her well enough, for she arrived in St Andrews in 1871 to work as a housemaid. There were no wedding photographs, nor indeed any other pictures of Margaret, which is curious given that St Andrews was well furnished with photographers and Tommy was photographed several times alone and with his father and sister. This, and the fact that neither of his parents attended the wedding, remains a mystery.
The fine house that Tommy acquired for his bride in Playfair Place attests to the financial wellbeing of Tommy and his independent attitude. He clearly did not subscribe to the Scots Presbyterian ethos that someone from the working classes simply did not flaunt new-found prosperity.
On Saturday, 4 September 1875, Tommy and his father played against Musselburgh's Park brothers, Willie and Mungo (not the explorer of the same name) at North Berwick in a match that had been talked about for months. They began play at 11am: in St Andrews that afternoon, Margaret died while giving birth to a stillborn child.
Drama has been added to the tragedy by a multitude of scribes since, but the most accurate report is probably that in The Scotsman two days later. According to this report, when the match was over and the Morrises declared the winners, a telegram was handed to Tommy "announcing that his wife was seriously ill and requesting that he should get back to St Andrews with all possible haste". A summer resident in the town offered to sail them across the Firth of Forth in his yacht moored in the harbour. The yacht had just left when a messenger reached the pier with a second telegram stating that both mother and child were dead. Tommy's friends agreed to allow the yacht, within easy hailing distance, to sail "without acquainting those on board with the distressing news, fearing that the shock to the unhappy husband would be too great".
Tom Morris added this Scotsman report to his scrapbook of cuttings, and although he lived another 32 years, it was the last entry he would ever make.
The absence of any notice of Margaret's death in the St Andrews news columns is hard to understand. After her death there would appear to have been no further contact with the Drinnens of Whitburn, and Margaret's family descendants today knew nothing of their connections with the famous Morris family of St Andrews. There is no evidence whatsoever that anyone in the town had any knowledge of her background or that she had given birth to a child out of wedlock. Was Margaret not altogether accepted by the Morrises, or was the tragedy of her short marriage too painful a subject to be dwelt upon? We may never know.
Tommy was devoted to Margaret and was distraught. It was said that he had to be persuaded to play golf again: when he did, his sparkling form deserted him.
Talk in St Andrews is that he never recovered from a brutal challenge match, against Arthur Molesworth, played in November over six days of bitter cold, with high winds and snowfall. Men armed with brooms and shovels had to clear the St Andrews greens of snow on the Saturday, and on the Monday and Tuesday morning there was three inches of snow on the links, with some drifts of up to two feet. Tommy won, and for his efforts he made at least £100 for his friends and backers.
Through a combination of ill health and unhappiness, he began drinking heavily. Extravagant statements since claim that he drank himself into an early grave, but there is no evidence that drink played any part in what was to follow.
Tommy was reported to have become "seriously unwell" in October, though the nature of his illness is unknown. He died on Christmas Day, 1875. The available evidence suggests that he died from some cardiovascular disaster, probably a ruptured aneurysm of one of the main arteries at the back of his chest. He was 24 years old.
But the family dynasty continued until the death of Old Tom Morris in 1908. But the names of Old Tom Morris and Young Tommy Morris live on today where ever golf is played around the world today.
Final thoughts – I hope to have captured in three short blogs the essence of what they achieved against all the odds and challenges in their lifetimes. Golfers everywhere owe them so much gratitude.
AND through it all the Royal North Devon Golf Club, celebrating its 150th anniversary in 2014,  has been closely associated with the Morris family. No wonder thousands of visitors come to the club at Westward Ho! every year here in North Devon from around the world to re-live its history – the very first golf course established in England.
Footnote about Horace G. Hutchinson
"When I arrived at the age of five, we went to live at a house called Wellesbourne, in North Devon, about halfway between Bideford and Northam. Westward Ho! in those days did not exist. There was one farmhouse where all the houses of the watering-place now are. The very name belonged only to Charles Kingsley's fine book, and was only taken for the name of the place a year or so later than this. Captain Molesworth, to whom English golf was to owe a big debt, lived at a house called North Down, just at the entry into Bideford, and it was in this house that Charles Kingsley was living while writing Westward Ho! That is the story of how the name came to be given to the place, and Borough House, by Northam, was about half a mile from our Wellesbourne. This Borough House, since restored, is where Mrs. Leigh, with her sons Frank and Amyas, were placed by the novelist."
And never forgetting J.H. Taylor of Westward Ho!
Motivated by the Inspiration of Others and the Love of Music.
Helping to make a difference in your lives – contact me if you would like some guidance and advice about network marketing as below:-
John Barton
Network Marketer
Skype:jowbarton
Find Me On Facebook: https://www.facebook.com/johnbarton007
TAGS: Helping to make a difference in your lives, Motivated by the Inspiration of Others and the Love of Music, Old Tom Morris, Royal North Devon Golf Club, Young Tom Morris, Young Tommy Morris, St Andrews, Captain George Molesworth of Westward Ho!, 150th anniversary in 2014, the very first golf course established in England, The Scotsman, Horace G. Hutchinson
Main Source of Reference –  Wikipedia for which many thanks.
Content Disclaimer: The information contained in this website is for general information purposes only. This does not relate to specific individuals but is drawn from the writer's knowledge gained from the internet, newspapers and the media in general.The information is provided by John Barton who endeavours to keep the information up to date and correct, Any reliance you place on this information is therefore strictly at your own risk.